When I stay with tranquility, ...
2018.10.17 Wednesday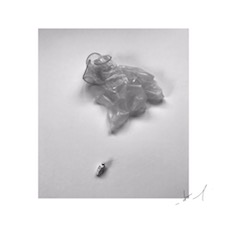 When I stay with tranquility, sincere and authentic happiness is felt in my heart. It is the happiness which is an ever-expanding transparent space revolving around my consciousness, and which, once we find, everything we have believed pales and changes its meanings by. It also makes us view the world from utterly different angles. It indefinitely exists in our mind and body, thus we don't feel like necessity to fill the empty in mind with something else. General and misled happiness cannot stay long enough to meet our true satisfaction. Therefore, we incessantly crave for something new and different without content. It is because we know in mind that these are ephemeral and not genuine. However, if we cannot recognise that it's fictitious, this vicious cycle continues. It haunts us over and over until we fully consider our surroundings and start the journey with bravery. If we find a fragment of the truth in mind during this quest, it is the door for the happiness. Nevertheless, sometimes we may be ostracised in the society for it has been made by men and is destined to go round and round in the unwanted circle. This phenomenon can be clearly observed when we objectively see it from afar. If we finally cherish this true happiness, the meaning of the rest of our life relies on how we spend our individual life. There are diverse and indefinite paths in front of us depending on what we materialise the truth in in definite life. The sincere and authentic happiness is the core universe in our mind, which is generated, integrated and settled in order to meet sincere demand in mind and body at the same time we find who we truly are.
心静かにある時に感じるのは充足した幸福です。自分という意識を中心に、透明でどこまでも続く空間のように広がりを感じることができるものです。一度手に入れたら、他の全てが存在する意味を一瞬にして変え、世界を全く違った視点から見るようになるものです。それは永久に心と体の中心にあるので、他のもので満たそうとする必要性を感じなくなります。一般の幸福感は長続きせず、次から次に新しく心を満たしてくれるように思えるものを求めます。なぜなら、それらは一時的なものに過ぎず、本物ではないと心が知っているからです。けれど、それを認めたくない心がある場合は、この連鎖が続くことになります。立ち止まって、勇気を持って、本当を見つめる準備ができるまで、それは何度でも繰り返し起こります。本当を見つけることができた人は幸いです。時にそれによって社会の中で存在を否定されることがあるかも知れません。なぜなら社会は人間によって作られ、あの連鎖の中を回るように仕組まれているからです。少し距離を置いて眺めてみれば自明のことです。この真の幸福を自分の内に見出した後は人それぞれの生き方の問題になります。自分の中にある真実をどの様に人生の中で体現していくか、それによって道は無限にあるからです。真の幸福とは、真の自分を知ることと同時に心と体を満たすように産まれる自分の核となる宇宙のことです。
Copyright(c) 2018 Haruyasu YANAGI All rights reserved.