Where do you think you can find heaven?
2018.07.05 Thursday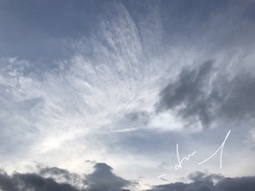 Where do you think you can find heaven?
It exists only inside yourself. Many people seek it outside; for instance, some people blindly believe that it could be achieved when they find the right person like a soul mate. The person can be a mere reflection of yourself. Instead, you should find complete serenity in your mind, then everything surrounding you drastically becomes the haven; the place you genuinely belong to.
For reaching this phase, you may first need a clue, or a trigger. If you want to instantly experience a condition similar to heaven, you may try this. You slowly and deeply breathe in and out, especially the "out", concentrating on your lower abdomen's inner movements, not the lungs'. Furthermore, if you would like to firmly establish this inner peace, you might need to eliminate obstacles, residues of negative feelings that you have consciously or unconsciously piled up in you. In order to do so, you can start by knowing who you are or at least who you may be, and imagining what ultimate possibility you intrinsically have.
人は自分が求めているものが自分以外のものの中にあると思い込み外の世界に懸命に探し続ける。本当の安息は自分の中に見出だせると気付くまで、時に傷付き、経験を重ねる。

自分の中に穏やかさを見い出すと、それは内から湧き出し、己の表情を作り始め、ついには環境に変化をもたらす。ある特定の意識のある人々の表情に共通するものがある事に気付いている人も多いと思う。それが分かりやすい例で、色々な事例に適応できる。

この自分の中に穏やかさを見い出す疑似体験をしたいのなら、深い呼吸をしてみることをお勧めする。呼吸時に下腹部の上下運動をできる限りゆっくりと深いものにする。肺ではなく下腹の動きに集中する。呼気が身体の隅々から体外に向かい、吸気が身体中に行き渡るのを感じられるだろう。ちょっとした練習が必要かも知れないが、その時の自分に合ったリズムが見つかれば次の変化を感じるまで続けてみる。ある時気持ちが安定していることに気付くと思う。この状態を心と身体に覚え込ませる。道は人の数ほどあるだろう。自分の道に少し迷ったらここに帰れば良い。
Copyright(c) 2018 Haruyasu YANAGI All rights reserved.