The world is filled with uncertainty and inconsistency, so . . .
2018.04.04 Wednesday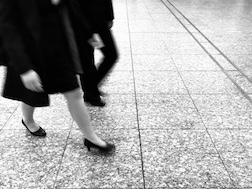 The world is filled with uncertainty and inconsistency, so it is impossible to predict what will happen in the future. The meaning of life is to make the most of our talents, whilst feeling the certainty and consistency within ourselves.

In order to gain the quality for the living, it may be attained through intuitive experiences. The key to it is to focus on the inside of ourselves, not seeking the outside instead. By recognising that the outer world is a mere reflection which leads us to the realisation of ourselves, the process will be more transparent.

There are two main factors in terms of making the most of ourselves in life. The first one is to fill our souls with utmost pleasure by engaging ourselves in what we sincerely like. The other is to dedicate ourselves to our loved ones and, in general, people. What we think is important should be created, establishing a community in which we are needed.

It may be more formidable if it, what is important, is essential and intrinsic. It is because the importance dwells in the abstract and, thus it might be rejected and alienated. It is obvious that we human beings have got around the core importance, by looking back in our entire history. It has been successfully conducted that, for example, we were distorted and spoiled by being forced into wars and consumerism, then, being blind and suffering the affliction and indulging in the ephemeral. Consequently, we became paralysed and unconscious about the real situations. In the light of this, it might be challenging to find, to interpret, to express and to share the essential importance with others. It is possible that when we reach this stage, we are meant to make the most of our potentials.
世界は不確実で予測不可能なことで溢れている。生きるとは、その中にあって自分自身の中に確かさを感じながら、存分に自分を使い切ることにある。

確かさを自身に中に見出すには、心に従ってみることで経験から得られるかもしれない。ポイントは、フォーカスを外に向けるのではなく自分の中にあると知ること。外の世界は、そこへ導くリフレクションと認識できると、そのフォーカスは純粋さを深くする。

自分を使い切るとは、人生という意味に於いては、大きく二つある。ひとつは、自分が時間を忘れるくらい楽しいことに従事することで、魂の喜びに満たされること。もうひとつは、愛する人、隣人に働きかけること。人々の中で、自分だからこそ必要となる世界をつくり、その中で"大切と感じるもの"を創造していくことにある。

その大切なものが本質的であればあるほど、挑戦が必要になるかもしれない。なぜなら、それは現存せず抽象的な世界の中に止まっているから、初めて触れるには拒絶感や異質感が生じる。歴史を振り返れば、人類が如何にその本質に働きかけることを避けてきたか明白だろう。例えば、人々の意識を闘争や消費と言った表面上の苦しみや快楽にとめることで意識の活性化を妨げ麻痺させることに成功してきたこと。その本質を発見し、解釈し、表現を通し共有に至るには様々な困難を通ることになるかもしれない。恐らく、その領域に至る時には、私達自身は十分に使い切れているだろう。
(2nd. Apr. 2018)

Copyright(c) 2018 Haruyasu YANAGI All rights reserved.