Human beings are born as a perfect entity. . . .
2018.03.29 Thursday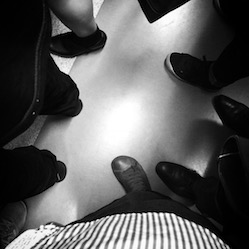 Human beings are born as a perfect entity. This perfection does not mean that there is no room to improve, but we are prepared enough to go through all the events in life. It is, of course, inevitable to exist with no experience for learning. Through the experiences, it is doomed to be spent for us to become as consummate as possible because its span is apodictically limited, with its unique pace and course. Thus, we become more different from one another. In that meaning, it is useless and infertile to compare one's life with others'. Since common sense confines us in a small box, which revels against this natural course of life, it engenders afflictions. The unity will be harmoniously constructed with our own genuine uniquenesses, while the cooperative differences should be accepted by the society to create the perfection in whole.

人は完璧な存在として生まれた。それは、これから経験することに対して完全に準備ができているということであって、止まったままでいいということではない。もちろん止まったままで存在することは、生きている以上、不可能である。その経験を通して、今生の完成形を目指して人それぞれのペースで限られた時間を過ごす。だから皆違った存在になるし、その過程もユニークなものになる必然性がある。どのような状況にあっても人と比べることの無意味さがそこにある。枠の中にあろうとする現在の社会通念は、この本来の目的に抗うものであり、人の消えない苦しみを生む原因になっている。共通化の概念は、種の防衛のためであって、個が特殊であることを否定するものではない。むしろ、それぞれが完全にその固有性を発揮してこそ、補完が行われることで、全体としても調和を保つことになる。
Copyright(c) 2018 Haruyasu YANAGI All rights reserved.